Eaglais Chille Mhìcheil fo Chruth-Atharrachadh
Cha mhòr còig bliadhna air ais, sa Ghiblean 2012, sgrìobh mi pìos an seo mu Eaglais Chille Mhìcheil san Eilean Dubh, an seann eaglais ud le cladh ri taobh Bhàgh Uadal. Leis nach deach càil a dhèanamh rithe thar nam bliadhnaichean,  bha i ann am fìor dhroch stàit.  Ann an 2012 bha planaichean aig Urras Chille Mhìcheil (buidheann shaor-thoilleach) an eaglais a shàbhaladh agus a h-ath-nuadhachadh mar ionad eachdraidheil agus mar ghoireas coimhearsnachd. Bha coltas gu math àrd-amasach aig na planaichean, nan dèanadh tu coimeas eadar an tobhta a bha anns an eaglais aig an àm sin (fiù 's na bu mhiosa às dèidh dhan mhullach tuiteam  a-steach fo shneachd trom san aon bhliadhna) agus dealbhan spaideil na làrach mar a bhiodh e às dèidh nan obraichean rùnaichte uile. An-diugh tha mi airson sùil a thoirt air na h-adhbharan air cudromachd na làraich, agus cuideachd air na thachair anns an eadar-àm.
Chaidh an eaglais a stèidheachadh sna Meadhan Aoisean le paraiste aice fhèin, bho 1662 a-mach còmhla ri Cùl a' Chùdainn mar pharaiste ùr, Ruigh Solais.  San latha an-diugh 's e àite sàmhach, iomallach a th' ann, ach cha robh e an-còmhnaidh mar sin. Feumaidh cuimhne a bhith againn gun robh Baile Dhubhthaich na àite-taistealachd cudromach cliùiteach sna Meadhan Aoisean, agus thar nan linntean thàinig iomadh taistealach bho cheann a deas na h-Alba, gu tric a' leantainn na seann slighe bho sgrìn Naomh Fionan aig Taigh Mhàrtainn ann an Gall Ghàidhealaibh.  Ghabh an luchd-siubhail seo – is iad luchd-turais an linn, agus cuid dhiubh beartach gu leòr – an rathad bho Mhanachainn Mhic Shimidh tron Eilean Dubh thorrach fhuranach gu Crombadh gus am bàta-aiseig fhaighinn gu Neig agus an rathad gu Baile Dhubhthaich. Nam measg bha an Rìgh Seumas IV, a bha ann am Baile Dubhthaich ochd tursan deug mu 1500, is e a' measgachadh taistealachd agus poilitigs.  'S e 'Slighe an Rìgh' a tha air an rathad seo an-diugh fhathast.
Mar sin chan eil ann an àite iomallach bochd a bha anns na paraistean seo, ach ann an sgìre thrang shoirbheachail, agus an luchd-fearainn gu tric beartach gu leòr airson eaglaisean a thogail agus leacan-uaighe mòr-sgeadaichte a phàigheadh, mar a chì sinn anns na h-eaglaisean aig Cille Mhìcheil agus Cùl a' Chùdainn agus sna cladhan aca. Lean seo fad linntean, fada às dèidh àm nan taistealachan cuideachd, agus mar sin tha leacan agus carraighean-chuimhne gu math drùidhteach aig an dà chuid, Cille Mhìcheil agus Cùl a' Chùdainn, bho na Meadhan Aoisean gus an 19mh linn. Ged a chaidh an dà thogalach o fheum mar eaglaisean-paraiste o chionn 200 bliadhna, agus chaidh Cùl a' Chùdainn a dholaidh, chaidh Cille Mhìcheil a chleachdadh fhathast mar thrannsa-adhlacaidh do phrìomh theaghlaichean na sgìre. Bha e ro anmoch Cùl a' Chùdainn a shàbhalachdh, ach bha an t-Urras agus mòran sa choimhearsnachd den bheachd gun robh Cille Mhìcheil, le a h-eachdraidh fhada inntinneach agus a leacan agus a carraighean brèagha, airidh air ath-nuadhachadh.
Agus às dèidh dhaibh mothachadh a dhùsgadh agus maoin a thogail agus iarrtasan-tabhartais gun chrìoch a lìonadh fad fichead bliadhna, ach iad-fhèin an eidheann chronail a thoirt falbh agus na ballaichean a propadh suas, tha iad air a' chùis a dhèanamh mu dheireadh thall. Le cuideachadh bho iomadh buidheann, nam measg bho Mhaoin-Dualchais a' Chrannchuir, thòisich an obair mhòr air an togalach. Tha na bha ri fhaicinn sna planaichean còig bliadhna air ais ri aithneachadh beag air bheag ann an da-rìribh a-nis. Tha a' chompanaidh Laing Traditional Masonry dèanadach leis na ballaichean agus a' mhullach, anns a bhith a' cleachcadh na seann chlachan agus sglèataichean cho fad 's a ghabhas, agus dòighean-obrach tradiseanta. Mar sin 's urrainn do luchd-obrach òg na sgilean seo ionnsachadh, agus bha bùthan-obrach de mhuinntir na sgìre cuideachd. Ghabh mi fhìn pàirt ann an tè airson obair-snaidhidh cloiche, agus chuidich mi mar shaor-thoileach na h-arc-eòlaichean a bha a' cladhach an làir am broinn na h-eaglais.
Anns an eadar-àm cha mhòr nach eil am mullach agus na ballaichean deiseil, tha leacan air an làr, tha iad a' cur sìos càballan dealain, agus tha iad a glanadh agus a' càradh nan carraighean-cuimhne, gu h-àiridh an 'Regnard memorial' bhrèagha chlasaigich. Nuair a bhios sin deiseil, bidh iad a thoirt a-steach agus a' taisbeanadh cuid de na leacan snaidhte às na 14mh agus 15mh linntean bhon dà chladh. Tha a' chuid ann an Cùl a' Chùdainn gu sònraiche àlainn – tha iad gu ìre mhòr fon fhòid fhathast. Tha iad fìor phrìseil agus sònraichte, mòran le ìomhaigh claidheimh le seòrsa cuibhle mun dòrn-chur agus geugan a' tighinn às an lann, ach tha iad an cunnart bho na siantan agus bho na lomairean-feòir làidir aig a' Chomhairle.
Chan eil cho doirbh idir a-nis creidsinn gum bi an aisling a bha aig an Urras ga firinneachadh. Tha iad rim moladh airson am foighidinn agus an dìlseachd, agus airson na rinn iad dhuinn uile. 'S e goireas mìorbhaileach dhan choimhearsnachd agus do dhualchas Rois an Ear a bhios ann,  ionad-tadhail a tharraingeas thaistealaich ùra air ais do Shlighe an Rìgh. Agus nuair a bhios bàta-aiseig Neig-Crombadh a' ruith a-rithist as t-samhradh, cha bhi e fada idir bho Bhailtean Mhachair Rois….
BBC Naidheachdan: https://www.facebook.com/BBCNaidheachdan/videos/10154953034253735/
Radio nan Gàidheal, Aithris na Maidne 30.01.17 ,  http://www.bbc.co.uk/programmes/b0894k3d Bho ca. 1.25.14    gu  1.29.40
**************************************************************************************
The transformation of Old Kirkmichael
Almost 5 years ago, in April 2012, I wrote a piece about Kirkmichael Church in the Black Isle, that old church with a graveyard beside Udale Bay. As nothing had been done to it over the years, it was in truly desperate condition then. In 2012 the Kirkmichael Trust (a voluntary group) had plans to save and restore the church as a historic monument and a community resource. These plans looked pretty ambitious when you compared the ruinous church then (even worse after the roof fell in after heavy snow) with the attractive pictures of the site as it would look after all the desired works. Today I want to have a look at the reasons for the importance of the site, and at what has been happening there in the meantime.
The church was founded in the Middle Ages with its own parish, from 1662 combined with Cullicudden as Resolis parish. Nowadays it's a quiet spot off the beaten track, but that was not always so. We have to remember that Tain was a famous, important place of pilgrimage in the Middle Ages, and over the centuries many a pilgrim made his way there from the south of Scotland, often following the old pilgrims' route from the shrine of St Ninian at Whithorn in in Galloway. These travellers – the 'tourists' of their day, many of them wealthy – took the road from Beauly's priory through the fertile, hospitable Black Isle to Cromarty, to get the ferry over to Nigg and the road to Tain. Among them was James IV, who visited Tain 18 times around 1500, combining pilgrimage with politics. The route is called the King's Way to this day.
These parishes were therefore not poor, isolated places, but part of a bustling, prosperous area, where landowners were often rich each enough to finance churches and pay for ornate grave-slabs, as we see in the churches of Kirkmichael and Cullicudden and their graveyards. This continued down the centuries, long after the time of the pilgrims, and so we see impressive memorial stones in both Kirkmichael and Cullicudden, from the Middle Ages to the 19th century. Although both buildings went out of use as parish churches about 200 years ago, and Cullicudden Church became completely ruined, Kirkmichael was still used as a burial aisle for the leading families of the area. It was too late for Cullicudden to be saved, but the Trust and many in the community believed that Kirkmichael, with its long, interesting history and its fine memorial slabs, was well worth restoring.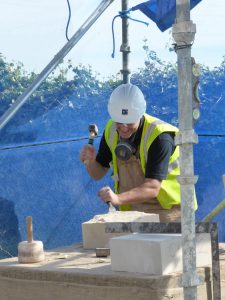 And now, after 20 years of raising awareness, and funds, and filling in countless grant applications, and themselves removing damaging ivy and propping up the old walls, they have finally reached their goal. With help from many bodies, among them the Lottery Heritage Fund, work on the great project has begun. What we saw in the ambitious plans back then can gradually be recognised in reality. The firm Laing Traditional Masonry have been working industriously on the walls and roof, re-using the old stones and slates as far as possible, and using traditional methods. In this way young masons can learn these old skills too, and there have also been workshops for the community – I took part in a stone-carving one myself. I also volunteered on the dig run by archaeologists in the floor of the church.
By now the walls and the roof are nearly finished, there are stone slabs on the floor, they are laying electricity cables , and they are cleaning and repairing the memorial plaques inside the church, especially the fine classical 'Regnard memorial'. When that is all finished they will be bringing in and displaying some of the carved 14th and 15th century grave slabs from both graveyards. Those in Cullicudden are particularly beautiful – they are largely covered by turf nowadays. They are all precious and very special, many of them with a carved sword with a kind of wheel around the hilt and branches coming out of the blade, but they are in danger from the elements and the council's hefty lawnmowers.
It's not so hard at all now to believe that the Trust's dream will really come true. They are to be congratulated for their patience and their faith, and for what they have done on behalf of us all. It will be a marvellous resource for the community and for our Easter Ross heritage, a visitor-centre that will draw new pilgrims back to the King's Way. And when the Nigg-Cromarty ferry starts up again for the summer, it won't be far away at all from the Seaboard Villages…
Kirkmichael Trust: http://www.kirkmichael.info/  (videos and pictures, background)
Kirkmichael on Facebook: https://www.facebook.com/kirkmichaeltrust/
The King's Way: http://walkingandwriting.blogspot.co.uk/2012/06/blogger-has-unfortunately-become.html
BBC Naidheachdan: https://www.facebook.com/BBCNaidheachdan/videos/10154953034253735/
Radio nan Gàidheal, Aithris na Maidne 30.01.17 ,  http://www.bbc.co.uk/programmes/b0894k3d Bho ca. 1.25.14    gu  1.29.40