Sgonaichean le Peuran is Dinnsear 
Seo reasabaidh eile a fhuair mi bho Molly MacRae ann an Amèireaga, a sgrìobhas sgeulachdan-muirt. Chaidh na sgonaichean seo ithe anns an leabhar Plaid and Plagiarism – na gabhaibh dragh, chan eil puinnsean annta idir!
https://anastasiapollack.blogspot.co.uk/2018/01/cooking-with-cloris-guest-author-molly.html?spref=fb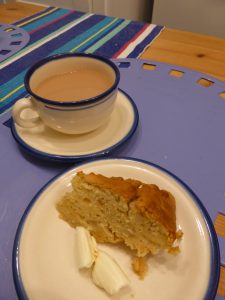 Grìtheidean
2 – 3 peuran daingeann (mu 500 gr) – nach fhaod a bhith ro abaich!
200 gr min-fhlùir
50 gr siùcair
1 – 1½ spàin-tì pùdair-fuine
½ spàin-tì dinnseir bhleithte
½ spàin-tì salainn
85 gr ìm fuar gun salainn, air a ghearradh ann am piosan beaga
20 gr dinnsear criostalaichte mìn-sgudaichte
60 gr uachdar trom (m.e. dùbailte, no crème fraiche)
1 ugh mòr
Ro-theasaich an àmhainn gu  190°C
Rùisg na peuran agus geàrr iad ann an cnapachain mu aon òirlich. Cuir iad air pàipear-fuine air clàr-bèicearachd san àmhainn mu 20 mionaid.  Feuch am bi iad air fàs tioram agus rud beag donn air a' bhonn. Thoir am pàipear air falbh bhon chlàr agus cuir air racais e gus am bi na peuran nas fhuaire.  Fàg an àmhainn air. Cuir pàipear-fuine ùr air a' chlàr.
Fhad 's a bhios na peuran san àmhainn, measgaich na grìtheidean tioram ann am bobhla mòr. Cuir na cnapachain ìme riutha agus geàrr no suath iad a-steach dhan mhin-fhlùr gus am bi na piosan ìme cho beag ri peasraichean. Nuair a bhios na piosan peura nas fhuaire, cuir iad ris agus geàrr tron mheasgachadh gu luath trì no ceithir tursan, gus am bris pios no dhà de na peuran (ach fàg a mhòr-chuid slàn). Co-mheasgaich an dinnsear criostalaichte ris.
Ann am bobhla beag buail uachdar agus ugh.  Cuir mun cuairt iad sa mheasgachadh sa bhobhla mhòr le forca, dìreach gus an bi an taois a' tighinn ri chèile ann am ball. Thoir an aire nach measgaich thu e cus.
Air bòrd-fuine air a dheagh fhlùrachadh dèan cearcall mu 6 oirleach a leud às an taois. Geàrr ann an 6 no 8 geinnean i agus cuir air a' phàipear-fhuine iad, dà oirleach o chèile.  Ma bhios an taois ro bhog is steigeach aorson sin (tha sin a' crochadh ris na peuran), cuir am pàipear-fuine ann an tiona-cèic no soitheach-pàidh agus dòirt am brolamas a-steach, mar chèic.
Bruich san àmhainn mu 30 mionaid (6 geinnean),  22 mionaid (8 geinnean), no 45-50 mionaid airson an tiona-chèic, gus am bi iad donn agus daingeann. Cuir air racais iad. Ith iad fhad 's a tha iad blàth fhathast, le ìm.
Faodaidh tu na sgonaichean amh a reothadh cuideachd, mus bruich thu iad. Cuir iad dìreach bhon reothadair dhan àmhainn. Chan eil feum aca air ach beagan mhionaidean a bharrachd.
***************************************************
Pear Ginger Scones
This is another recipe I got from Molly MacRae in the USA, who writes murder mysteries. These scones were eaten (and enjoyed) in Plaid and Plagiarism. Don't worry, there's no poison in them!
https://anastasiapollack.blogspot.co.uk/2018/01/cooking-with-cloris-guest-author-molly.html?spref=fb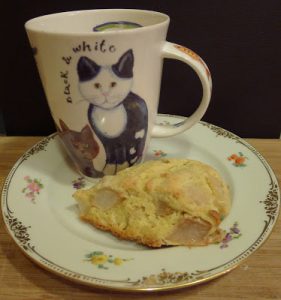 Ingredients
2 or 3 firmish pears (about 500 gr), peeled, cored, and cut into 1 inch chunks
200 gr flour
50 gr granulated sugar
1-1 ½  teaspoons baking powder
½ teaspoon ground ginger
½  teaspoon salt
85 gr cold unsalted butter, cut into small cubes
20 gr finely chopped crystallized ginger
60 gr heavy cream (e.g. double cream, crème fraiche)
1 large egg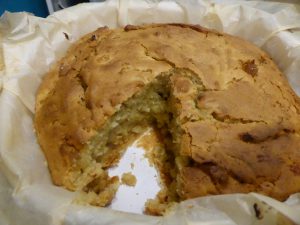 Heat oven to 190°F.
Line a large baking sheet with parchment paper. Arrange pear chunks on parchment and roast (no need to stir) until they feel dry to the touch and look a little browned on the bottom, about 20 minutes. Slide parchment with pear chunks onto a cooling rack and cool to lukewarm. Leave oven on. Line baking sheet with another piece of parchment.
Whisk flour, sugar, baking powder, ground ginger, and salt together in a large bowl. Add butter cubes and cut in with a pastry blender until the cubes are about the size of baby green peas. Stir in cooled pear chunks. Give the mixture three or four quick mashes with the pastry blender (to break a few of the pear chunks, but leaving most intact). Stir in crystallized ginger.
In a small bowl, beat cream and egg. Stir into flour mixture with a fork, just until you can bring the dough together in a ball. Don't overmix.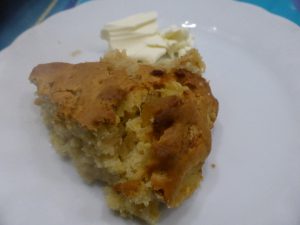 On a well-floured board, pat dough into a 6-inch circle. Cut either into 6 or 8 wedges. Arrange wedges, two inches apart, on parchment-lined baking sheet. If the dough is too soft and sticky for that (depending on the pears), just line a cake-tin or pie-dish with the paper, and pour in the mass, like cake mixture.
Bake scones until firm and golden, about 30 minutes if you're making 6, about 22 minutes if you're making 8, or 45-50 minutes for the cake-tin. Transfer to a cooling rack. Serve warm, with butter.
Unbaked scones freeze beautifully and you can put them straight into the oven from the freezer. They'll only take a few minutes longer to bake.