Tyneham, Baile Fàs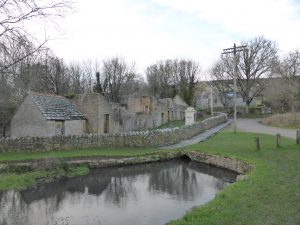 An seo air a' Ghàidhealtachd tha clachain agus bailtean-fearainn fàs gu leòr againn, a' mhòrchuid ri linn nam Fuaidaichean, is iad gu tric nan tobhtaichean a-nis. O chionn ghoirid bha mi beagan làithean ann an Dorset air cèilidh air caraid dhomh, agus chaidh sinn do bhaile beag a tha fàs air adhbhar eile.  
Tha baile Tyneham na laighe ann an sgìre Purbeck faisg air oirthir Caolais na Frainge, ann an srath fada torrach. 'S e baile le eachdraidh fhada a th' ann, air ainmeachadh anns an Leabhar Domesday, le seann taighean chloiche-aoil, agus Eaglais Ban-naomh Moire, air a steidheachadh ann an 13mh linn. Bha taigh-maineir àlainn bho 1580 agus taigh-reachdaire toirteil clasaigeach ann,  lòn-thunnag, sgoil aon-seòmar agus oifis a' phuist. Aig àm an Darna Chogaidh bha a' mhòrchuid ag obair air an fhearann no airson teaghlach Bond anns an taigh-mhaineir, agus beagan dhiubh mar iasgairean bho bhàgh beag eadar na creagan, uile gu lèir dòigh-beatha thradiseanta Shasannach air an dùthaich, dìreach mar a chì sinn i anns na nobhailean aig Agatha Christie.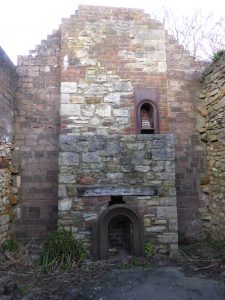 Dh'atharraich sin uile anns an t-Samhain 1943. Gu h-òbann, gun ghuth air roimhe air sgàth Achd Dìomhaireachd Oifigeil, fhuair gach teaghlach san t-srath litir bhon riaghaltas ag ràdh gun robh aca ri an taighean agus an tuathanasan fhàgail ro cheann ceithir seachdainean, dìreach ron Nollaig. Bha feum aig Oifis a' Chogaidh air an t-srath. Thuirt iad gum faodadh na teaghlaichean tilleadh às dèidh a' chogaidh. Anns an eadar-àm bu choir dhaibh àite-fuirich a lorg còmhla ri càirdean, air neo lorgadh an Riaghaltas aiteigin dhaibh.
"The Government appreciate that this is no small sacrifice which you are asked to make, but they are sure that you will give this further help towards winning the war with a good heart."
Chumadh an dubhar air a' chùis – bha dad ri leughadh sna paipearan (a-mach air barrachd shanasan-reic innealan-tuathanais), agus chan fhaodadh muinntir Tyneham cus innse mu a dheidhinn fiù 's do chàirdean. Thathar ri ràdh, leis gun robh a' mhòrchuid dhiubh nan gabhaltaichean, nach d'fhuair iad airgead-dìolaidh idir ach luach toradh nan gàrraidhean. Co-dhiù, thug iad leotha na b' urrainn dhaibh agus dh'fhàg an 225 dhiubh an dachaighean fo bhròn ach (a rèir coltais) aontach ris. Sgrìobh aon tè teachdaireachd mu dheireadh a chuir i air doras na h-eaglaise: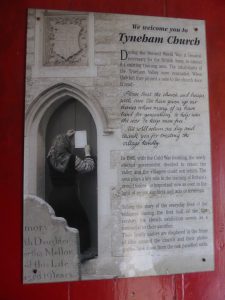 "Please treat the church and houses with care; we have given up our homes where many of us lived for generations to help win the war to keep men free. We shall return one day and thank you for treating the village kindly."
Bha Oifis a' Chogaidh ag iarraidh an srath a chleachdadh mar raon gunnaireachd agus gus na D-Day Landings ullachadh. Mar a thachair, bha an sgìre cho freagarrach airson treanadh an airm 's nach robh iad airson a thoirt air ais às dèidh a' Chogaidh. Ann an 1948 chuir an t-Arm òrdugh ceannachd èigneachail air, agus mar sin chaill muinntir Tyneham an dachaighean agus am fearann gu bràth. Chan fhaodadh iad fiù 's tighinn a thadhal air no gus na bha air fhàgail de shealbhan pearsanta fhaighinn. Thug e deicheadan agus iomadh iomairt phoblach gus an robh cead aca am baile fhaicinn a-rithist, anns na 1970an, agus chunnaic iad an uairsin nach robh mòran air fhàgail dheth. An àite "treating the village kindly", bha an t-arm air na taighean a chleachdadh airson targaid-losgaidh no bomaidh, no mar gharaidsean 's an leithid, agus bha a h-uile rud ann am fìor dhroch staid, gun mhullaich agus fo phreasan. Bha an taigh-maineir eachdraidheil air a leagail gu làr, an taigh-reachdaire air a threigsinn, agus na bha ann de dh'fheartan ailtireachd sònraichte air an creachadh no air an reic. Cha robh ach an eaglais agus an sgoil gu ìre ri shàbhaladh.
Ged a bha feadhainn an dòchas gum biodh cead aca tilleadh agus am baile ath-thogail, cha robh an t-arm no an riaghaltas deònach sin a dhèanamh – bha an raon ro fheumail dhaibh . Agus anns an eadar-àm bha a' mhòrchuid de mhuinntir toilichte gu leòr ann an taighean-comhairle cofhurtail agus ag obair ann an oifisean an àite air an fhearann. Bha e foillaiseach gum biodh an dòigh-beatha air atharrachadh co-dhiù, cogadh ann no às.
Ach bha faireachdainn brathaidh agus searbhadas aig mòran san sgìre fhathast, agus – às dèidh iomairtean poblach sna meadhanan – san dùthaich san fharsaingeachd. Chaidh cudrom a leigeil air an riaghaltas agus bho 1975 a-mach ghabhadh tadhal air a' bhaile bho àm gu àm, agus gus na 1990an chaidh lìonra chas-cheuman a stèidheachadh san t-srath, ri chleachdadh aig deireadh-seachdain nuair nach robh trèanadh a' dol. Chaidh am baile fhèin a sgioblachadh agus na ballaichean-taighe a bha air fhàgail a chàradh. Ann an 2008 chaidh an eaglais agus an sgoil ath-fhosgladh mar thaigh-tasgaidh. Tha Tyneham agus na cas-cheuman fosgailte aig deireadh-seachdain agus gach Lùnasdal a-nis.
'S e àite ciùin, bòidheach a th' anns a' bhaile an-diugh, agus anns na taighean gun mhullach tha panailean-fiosrachaidh ann le eachdraidh nan teaghlaichean agus seann dealbhan, tarraingeach agus brònach aig an aon àm. Beanaidh e ri do chrìdhe an leughadh.  Ach tha a' ghrian air cùlaibh gach sgòth – ged a tha tancaichean meirgeach air an sgaoileadh thairis air an dùthaich agus feansaichean agus soidhnaichean an airm, air sgàth 's nach robh daoine a' fuireach air an fhearann, no dòighean-tuathanais ùra air toirt a-steach, 's e seòrsa tèarmainn-nàdair air tuiteamas a th' anns an sgìre an-diugh, làn eun, bheathaichean agus lusan tearc.
Faodaidh mi Dorset gu lèir a mholadh airson turais, gu h-àiridh an oirthir – 's ma dh'fhaoidte gun sgrìobh mi barrachd mu a dhèidhinn uaireigin.
***************************************************************************
Tyneham, Deserted Village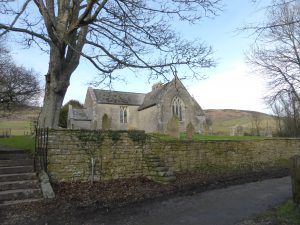 Here in the Highlands we have plenty of deserted villages and townships, most of them as a result of the Clearances, and often now just ruins. Recently I was visiting a friend in Dorset and we went to a village which was deserted for a different reason.
The village of Tyneham lies in the Purbeck area near the Channel coast, in a long fertile valley. It's a place with a long history, mentioned in the Domesday Book, with old limestone cottages and St Mary's Church, founded in the 13th century. There was a lovely old manor-house from 1580 and a substantial classical rectory, a duck-pond, a one-room school and a post office. At the time of World War II  most people were working on the land or for the Bond family in the manor-house, and a few as fishermen out of a little bay between the cliffs – all in all the traditional English country way of life, as we see it in Agatha Christie novels.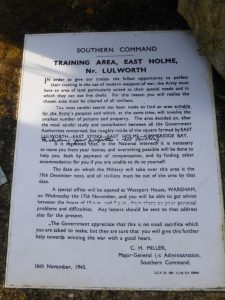 All this changed in November 1943. Suddenly, with no previous warning due to the Official Secrets Act, every family in the valley was given a letter from the government saying that they had to leave their homes and their farms within 4 weeks, just before Christmas. The War Office needed the valley. They said that the families could return after the war. In the meantime they should look for accommodation with relatives, otherwise the government would find somewhere for them.
"The Government appreciate that this is no small sacrifice which you are asked to make, but they are sure that you will give this further help towards winning the war with a good heart."
It was all kept in the dark – there was nothing in the newspapers (apart from increased numbers of farm-equipment sales notices), and the Tyneham villages were not allowed to say much even to friends. It's said that as most of them were only tenants they got no compensation except for the value of produce left in their gardens. In any case, they took with them what they could and the 225 of them left their homes, with a heavy heart but, apparently, resigned to it. One woman wrote a last message and posted it on the church door:
"Please treat the church and houses with care; we have given up our homes where many of us lived for generations to help win the war to keep men free. We shall return one day and thank you for treating the village kindly."
The War Office wanted to use the valley as a gunnery range and to prepare for the D-Day landings. As it happened, the area was so suitable as army training terrain that they didn't want to give it back after the war. In 1948 the Army took out a compulsory purchase order on it, and with that the people of Tyneham lost their homes and land for ever. They weren't even allowed back to visit or to fetch what was left of their belongings. It took decades and many public campaigns to win permission for them to see their village again, in the 1970s, and they saw then that not much was left of it. Instead of "treating the village kindly", the army had used the houses for target and bombing practice, or as garages and the like, and everything was in a dreadful state, without roofs and overgrown. The historic manor-house was razed to the ground, the rectory derelict, and the architectural features plundered or sold off. Only the church and the school were to some extent salvageable.
Although some hoped they would get permission to return and rebuild the village, neither the Army nor the government were willing to do this – the range was too useful to them. And in the meantime most of the inhabitants were contented enough in their comfortable council houses and working in offices instead of on the land. It was clear that their way of life would have changed in any case, war or no war.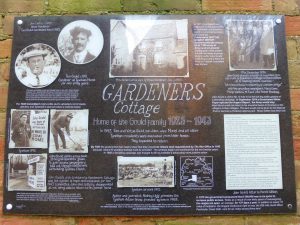 But many in the area still had a sense of betrayal and of bitterness, as did – after public campaigns in the media – the country at large. Pressure was put on the government and from 1975 on the town could be visited from time to time, and by the 1990s a network of footpaths was established in the valley which could be used at weekends when there was no training in progress. The village itself was cleaned up and the walls of the remaining houses repaired. In 2008 the church and the school were opened as a museum. Tyneham and the footpaths are now open at weekends and in August.
The village is a peaceful, pretty place now, and in the roofless houses there are information panels with the history of the families and old photographs, fascinating and melancholy at the same time. It's very moving to read them. But there's a silver lining – although rusting tanks, fences and army signs litter the countryside, because there are no people living there and no modern intensive farming methods have been brought in, the valley has become a sort of accidental nature reserve today, full of birds, animals and rare plants.
I can recommend the whole of Dorset for a trip, especially the coastline – perhaps I'll write more about it sometime.