Brot is Sailead an Earraich  / Spring Soup and Salad
Tha am biadh seo gu sònraichte math mar lòn no suipear air aon de na làithean earraich ud a tha  grianach ach fionnar, leis a' bhrot bhlàth bharragach, agus an sailead fuar cruasbach. Tha an dà chuid am brot agus an sailead furasda rin ullachadh, agus tha iad a' cumail ceart gu leòr san fhuaradair, ma tha thu airson uimhirean nas mòtha a dhèanamh. Faodaidh tu am brot a reòthadh cuideachd.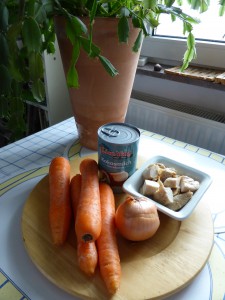 Brot currann-cnò-bhainne (mu 6 pòrsanan)
500 gr. curranan
1 uinnean
500 ml. sùgh-glàsraich no circe.
1 tiona cnò-bhainne (mu 400 ml.)
1 spàin-bhùird ola (ola chroinn-ola no cnòtha-còco)
Salann is piobar
Agus ma thogras tu:
dinnsear (ùr, ma tha e ri fhaighinn) agus pùdar coiridh, no piobar-tiolaidh teth dearg
cearc phraighigte no ròsta air a geàrradh ann an ciùban
Geàrr na curranan ann an sliseagan agus an t-uinnean ann am pìosan beaga. Bruich an t-uinnean air a shocair anns an ola ann am pana mòr trom air teas meadhanach gus am bi e glainneach soilleir. Cuir na curranan, salann agus piobar ris agus bruich iad le chèile fad còig mionaidean eile. Ma bhios tu a' cleachdadh dinnsear, coiridh no tiolaidh, cuir iad ris aig an aon àm. Cuir mun cuairt e gu tric. Cuir an sùgh glasraich no circe ris, agus earr-bhruich e, leis a' mhullach air a' phana, air teas ìosal gus am bi na curranan bog – mu 20 – 30 mionaidean.
Thoir am pana air falbh bhon stòbha agus nuair nach bi am brot ro theth tuilleadh, pronn gu mìn e leis an inneal-cho-mheasgachaidh. Cuir an cnò-bhainne ris (cum cuid bheag gu aon taobh mar sgeadachadh) agus teasaich e a-rithist.
Ma bhios sibh airson cearc a bhith aige, cuir trì no ceithir ciùban anns gach bobhla agus doirt am brot a-steach. Sgeadaich le spàin-tì cnò-bhainne, agus crath beagan pùdair-thiolaidh air an uachdar ma thogras tu.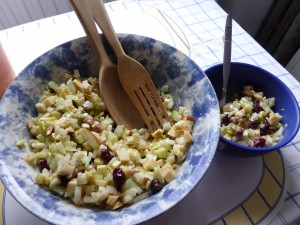 Sailead soilire agus ubhail  (mu 6 pòrsanan)
2 ubhail
soilire:  mu 6 stocain, an aon chuideam 's a tha agad de dh'ubhail ullaichte
50 gr. muilagean seachte
50 gr. cnò-challtainn
100 gr. iogart lom
òla is fìon geur, salann is piobar
Geàrr na h-uabhail agus an soilire glè mhìn (air neo tha an sailead ro dhoirbh ri ithe), geàrr na cnòthan nan dà leth, agus measgaich na gritheidean uile gu math.
Ith e le aran cruasbach is ìm.
Taing do Chairistìona Moll airson nan reasabaidhean seo!  🙂
**************************************************************************
This meal is particularly good as a lunch or supper on one of these sunny but cool spring days, with the warm, creamy soup and the cold, crunchy salad. Both the soup and the salad are easy to prepare, and they keep fine in the fridge if you want to make larger amounts. You can freeze the soup too.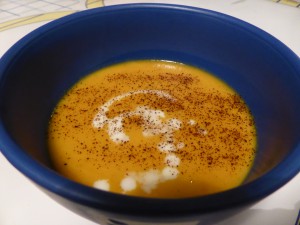 Carrot and coconut milk soup
500 gr. carrots
1 onion
500 gr. vegetable or chicken stock
1 tin coconut milk (about 400 ml.)
1 tbsp oil (olive or coconut)
Salt and pepper
Optional:
Ginger (pref. grated root ginger) and curry powder, or red chilli pepper
Cubes of fried or roast chicken
Cut the carrots in slices and chop the onion. Sweat the onion in the oil in a large heavy pan on a moderate heat until glassy. Add the carrots, salt and pepper and cook for another 5 minutes. If you're using ginger, curry or chilli, add these at the same time. Stir frequently. Add the stock and simmer it on a low heat, with the lid on, till the carrots are soft, 20 – 30 minutes.
Take the pan off the heat, and when it's cooled enough, puree it all thoroughly with a hand blender. Add the coconut milk (keep a little aside for garnishing) and reheat.
If you want to have chicken with it, put 3 or 4 cubes in each bowl and pour in the soup. Garnish with a teaspoon of coconut milk, and sprinkle with chilli powder if desired.
Apple and celery salad
2 apples
Celery: about 6 stalks, the same weight as the prepared apples
50 gr. dried cranberries
50 gr. hazelnuts
100 gr. plain yoghurt
Oil and vinegar, salt and pepper.
Chop the apples and the celery very finely (otherwise the salad is hard to eat), cut the hazelnuts in half, and combine all the ingredients thoroughly.
Eat with crusty bread and butter.
Thanks to Christine Moll for these recipes! 🙂