Briosgaidean Teòclaid Dhorcha Dà-fhillte / Double Dark Chocolate Devastators
Dhan fheadhainn a tha seachd searbh sgìth de riaghaitean-bìdh an Fhaoilltich, no a tha feumach air trèat beag ro Àm a' Chargais, seo reasabaidh airson bhriosgaidean teòclaid dìreach sòghail. Fhuair mi e bho Cam NicRath, aon de na 'caraidean Gàidhlig' agam ann an Ameireaga, a fhuair e bhon phiuthar aice, Molly, còcaire air leth agus sgrìobhadair sgeulachdan-muirt gu math sònraichte – thoiribh sùil air an làrach-lìn aice:  http://www.mollymacrae.com/
An dòchas gun còrd iad ribh!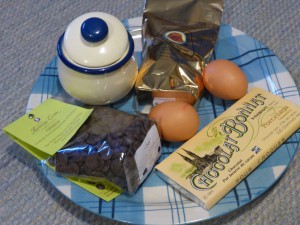 Briosgaidean Teòclaid Dorcha Dà-fhillte
2 chupa min-fhlùir
1/2 chupa còco
2 spàin-tì pùdair-fuine
3/4 spàin-tì salainn
4 uighean mòra
2 spàin-tì faoineig
2 spàin-tì grad-chofaidh
10 spàin-bhùird ime air a mhaothachadh
1 1/2 chupa de shiùcar donn
1/2 chupa de shiùcar gràinneach
16 unnsachan teòclaid searbhag-mhilis, air a leaghadh
2 chupa spealgan teòclaid leth-mhilis
Ullachadh:
1  Ann am bobhla mòr measgaich a' mhin-fhlùir, an còco, am pùdar-fuine, agus an salann ri chèile le sguabag. Ann am bobhla eile, measgaich na h-uighean, an fhaoineag, agus an grad-chofaidh ri chèile gus am bi an cofaidh leaghte.
2  Ann am bobhla mòr, buail an t-ìm agus an dà sheòrsa siùcair còmhla gus am bi iad aotrom mothtanach, 3-6 mionaidean. Cuir ris measgachadh nan uighean. Cuir ris an teòclaid leaghte le bhith ga bualadh agus sgrab taobhan a' bhobhla ma bhios e riatanach.
3  Cuir ris measgachadh na min-fhlùir gus am bi a h-uile nì air a mheasgachadh còmhla. Cuir ris na spealgan.
4  Dèan buill leis an taois, le 1-3 òirlich a leud agus cuir iad air clàr-fuine, mu 2 òirleach air falbh bho chèile.
5  Bruich ann an àmhainn aig 350 fad 10 gu 12 mionaidean neo gus am bi a' phàirt anns a' mheadhan fhathast bog agus gun làn-bhruich.
6  Fàg na briosgaidean air a' chlàr-fuine fad 10 mionaidean, agus an uair sin, gluais iad gu racais.
Gheibh thu 30 gu 60 briosgaidean, a rèir am meud.
************************************************************************************************
This sinfully scrumptious recipe for chocolate biscuits is for those of you who are sick of the January diet, or who need a last wee treat before giving up chocolate for Lent. I got it from Cam MacRae, one of my North American 'Gaelic buddies', who got it from her sister, Molly. Molly's not just a great cook, but also a crime-writer with an unusual approach – have a look at her website for details: http://www.mollymacrae.com/
Hope you enjoy your treat! 
Double Dark Chocolate Devastators 
½ cup cocoa powder
2 teaspoons baking powder
¾ teaspoon salt
4 large eggs
2 teaspoons vanilla extract
2 teaspoons instant coffee
10 tablespoons unsalted butter, softened
1 ½ cups packed dark brown sugar
½ cup granulated sugar
16 ounces bittersweet chocolate, melted 
2 cups semisweet chocolate chips 
1 Whisk flour, cocoa, baking powder, and salt together in large bowl. In separate bowl whisk eggs, vanilla and instant coffee together until coffee is dissolved.
 2 Beat butter and sugars together in large bowl until light and fluffy, 3-6 minutes. Stir in egg mixture. Beat in melted chocolate, scraping sides of bowl as necessary. 
 3  Stir in flour mixture until combined. Stir in chips. 
 4 Scoop dough into balls, 1-3 inches in diameter, and place on parchment-lined baking sheet, spaced about 1 ½ – 2 inches apart. 
 5  Bake at: 350º F until edges are set and tops are cracked but centers are still soft and underdone, 10-12 minutes.  
 6  Let cookies stand on baking sheet for 10 minutes, transfer to wire rack.
 Yield: 30 – 60 cookies, depending how big you make them
 Note: a 'cup' is approx. a large teacup or small mug.
More details on 'cups' here: http://allrecipes.co.uk/how-to/44/cooking-conversions.aspx